Citadel Station
Level R - Reactor

Area Information
Level ID

LV R

Medic Autodocs

1

Recharge Stations

1

Cyber Terminals

1

Connected Levels
Soundtrack




[Source]
The
Reactor Level
is the lowest level of
Citadel Station
, and one of the first to be explored by the
Hacker
in
System Shock
.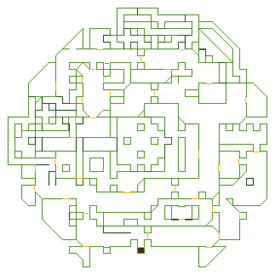 This level houses the stations primary reactor and support facilities. Painted mainly in gray, this level of Citadel is marked by its inelegant, yet functional architecture.
Due to the inherent health risk involved, a medical substation and the station's only radiation treatment area have been installed. A variable gravity chamber also exists here, which is used by TriOptimum engineers and scientists in a variety of experiments. It also has a shield generator room with a receptacle for Isotope X-22. The reactor core area has a destruct sequence lever, activated upon entering a 6-digit access code.
Logs and E-Mails
Edit
Weapons and Items
Edit
New Weapons

Edit

New Hardware Attachments

Edit
Cyberspace Items
Edit
Blast door unlocked.
Armory access overridden.
The reactor level has its own symbol in the game's files, though it is never used.
---
System Shock - Citadel Station


Level R
Reactor